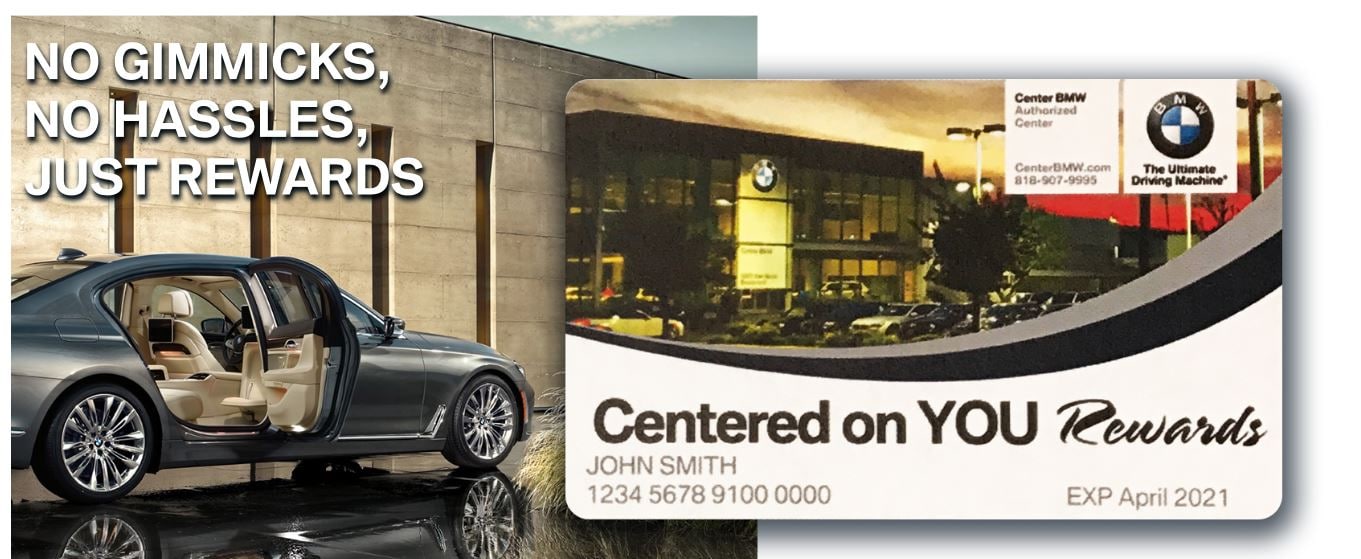 Here at Center BMW, we don't just sell you the perfect new BMW car. We also do what we can to help you keep your luxury car in top shape for years to come. That's why we're also a service center. Our expert mechanics can help you with all of your routine maintenance needs. Now we're ready to unveil our new incentives program, which makes visiting our BMW dealership near Los Angeles even more rewarding than ever!
Our new "Centered on YOU" Rewards Card is how we thank our most loyal customers. When you visit our BMW service center and get some work done on your car, you'll earn some points in our reward program.
The "Centered on YOU" Rewards Card is our way of saying thank you for your continued trust while servicing and maintaining your vehicle at Center BMW. Naturally, we want to be the dealership you continue to trust for sales and leasing, too. Your new "Centered on YOU" rewards account builds valuable points towards the purchase or lease of a new or Certified Pre-Owned BMW at Center BMW.

Here is how it works: Each visit to Center BMW where a technician performs a repair or maintenance operation while you wait, your "Centered on YOU" rewards account will earn a credit of 50 points. Your account can earn up to a maximum of 1000 points. When you are ready to buy or lease a new or Certified Pre-Owned BMW from Center BMW, negotiate your best deal and when you are ready to sign, simply present your "Centered on YOU" rewards certificate and the balance will be deducted from the purchase price or the agreed value of a leased vehicle. And yes, of course, free maintenance and warranty operations qualify. Now that's truly Centered on You! Terms and conditions: One point equals one dollar and can only be used by the person named on the card for vehicle purchases and leases at Center BMW. Center BMW can modify or cancel this program at any time without notice.
To find out more about our new "Centered on YOU" rewards card, give us a call at 818-907-9995, or visit us in person at our dealership, located at 5201 Van Nuys Blvd., in Sherman Oaks, CA. We look forward to serving you!